Frequently Asked Questions
If you have not worked with camera motion control before, you will likely have a lot of questions.
Please get in touch or take a look at some of the more common questions.
Does Robotface have two different robots available? What is the main difference between them and how do I know which one is best for me?
Glad you asked!
Yes, Robotface are proud owners of BOLT Cinebot and BOLT Jr. As the name suggests BOLT Jr is a more compact build, making it the perfect choice for travelling to residential locations, table-top and miniature work.
In terms of performance, they are equal in speed, precision and portability. The features including repeatability, target tracking, timelapse and lens control are identical.
The main difference is that BOLT Cinebot has a longer maximum arm reach of 2m with a max height of 3.5m. Whereas, BOLT Jr is able to reach to 1.2m with a max camera lens height of 2.5m.
Both are engineered in the United Kingdom by Mark Roberts Motion Control (MRMC), who are a Nikon parent group and are internationally recognised and award-winning leaders in motion control.
Are both robots compatible with the tracks?
Yes. BOLT and BOLT Jr are able to be operated on our 3 metre lengths of tracks (we have 3 x 3m tracks).
Can the BOLT travel to location?
Yes! The BOLT is fully mobile and is transported in our truck. It's home however is our Port Melbourne studio.
What access requirements does bolt need on location?
BOLT Cinebot requires a flat even surface at the location for unloading and shifting. A minimum doorway width clearance of 1.3 metres is required. A designated space parking space to unload the Robot is required (approx 10 metre length space).
Whilst BOLT requires a minimum doorway width of 1.3m, BOLT Jr is able to be transported through a standard door frame.
What are the cinebot power requirements?
BOLT
A dedicated 32amp 415v three phase five pin connection is required, either a wall connection or a portable generator. Any RCD breakers on the venue 3 phase power circuit will need to be disabled by an electrician or switched to a tolerance of 300mA as we cannot guarantee the robot will not trip the location power otherwise and fail to start up. In the case where RCD breakers cannot be disabled we can operate off a portable 3 phase generator. Please let us know if you need more information and we're happy to assist you with the technical details here.
BOLT Jr+
3 x 200 – 400 volts, 16amps.
Please let us know if you need more information and we're happy to assist you with the technical details here.
What are the cinebot dimensions?
BOLT – In it's transport position, the Robot is 1.3m width, 1.9m length, 1.8m height.
How much does the bolt cinebot weigh?
BOLT Cinebot + base weighs 650kg.
BOLT Jr + base weighs 300kg.
What speeds can the cinebot travel?
The Bolt can operate and move at speeds up and down its track at up to 5m/s with serious acceleration and deceleration.
Does the Cinebot require a flat level surface to operate?
Yes. If the ground is uneven we'll require production assistance to level the ground to support the weight and momentum of the Bolt Cinebot and tracks.
What cameras can be mounted on the Cinebot?
BOLT Cinebot has a maximum camera payload of 20kg and includes ARRI, RED and SONY cameras, as well as PHANTOM. Some productions get creative and instead attach other items such as lights and models to the arm instead of cameras!
BOLT Jr has a maximum payload of 10kg.
Can I mount my DSLR camera to the robot?
Yes. However you'll need to attach a cine-grade lens to allow our focus gears to attach.
Can I shoot repeatable camera moves?
Every programmed move with the BOLT can be repeated with pixel precision up to 100fps when we have a sync source from the camera. Beyond this frame rate shots will still line up with extremely high accuracy, however slight adjustments to the images in post may be required depending on how wild the camera movements are.
How long are the tracks?
We have 9 meters of track available in 3 sections. Each section is 3 meters long & weighs 100kg.
What software and hardware drives the bolt?
We use software called FLAIR that is designed specifically to drive the hardware built by Mark Roberts Motion Control over 40 years for its motion control products. Designed to give exceptional realtime command over camera movement, Flair precisely controls up to 500 axes of motion and interfaces seamlessly with CGI packages.
Can you output fbx data for post production?
Yes. For every move programmed we can output an FBX file that can import a camera and its motion directly into an animation package such as MAYA, Lightwave or 3D Studio Max.
Can you output realtime data for on-set live keying and led walls?
Yes. We can output a variety of realtime data such as OSC streams to extract realtime camera positioning information.
Do the robots focus the camera?
Yes. We can have three motors to control Focus, Iris and Zoom. Once we have measured focus to an object once, the Robot will then keep the object in focus no matter what speed the arm is moving.
Does the product turntable integrate with the bolt robot?
Yes. Just as we can program the Bolt robot to move, we can program the turntable to start and stop a spin precisely where and when we want it too.
Does the studio car turntable integrate with the bolt robot?
Yes. We have the ability to start and stop the car turntable as part of a programmed move, however controlling the speed of the turntable is still done manually – we are working to integrate this control into the robot also.
How safe are the robots?
Health & Safety is our utmost priority when working with the Bolt Cinebot and BOLT Jr. Robotface conducts daily safety briefings with the production team to ensure the safety of everyone on set and that everybody understands Bolt is effectively an industrial machine. Robotface will not be responsible for any persons acting against our instructions and who get injured due to their own negligence or to not adhering to our safety requirements.
Do you have public liability insurance?
We sure do. $20,000,000
Any Questions?
High-speed robotic arm
Check out these Motion Control projects
WOLL TVC
VOOST TVC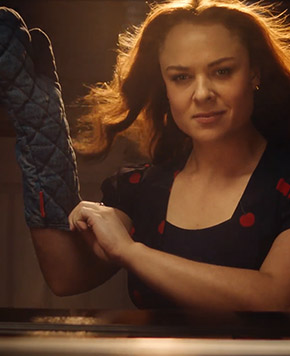 Birds Eye - Deli TVC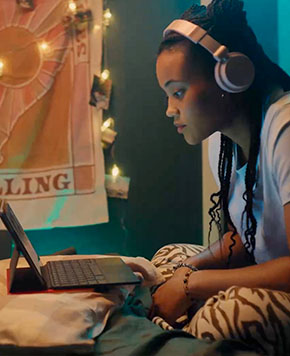 Officeworks Chromebook TVC